Al Toscana Apartments, ideal for families!
"Al Toscana" is a residence consisting of 10 brand new flats.
The building is situated in Andalo in a sunny area not far from the centre, about 950 metres from Piazza Dolomiti and 800 metres from the ski lifts.
Our building enjoys an excellent view of the Brenta Dolomites and is surrounded by a large green area.
The bus shuttle (free with the Dolomiti Paganella Guest Card), passes right by our building, about 30 metres away.
Plenty of parking spaces are available for all flats, with the possibility of both indoor and outdoor parking.
In the basement there is a laundry room (washing machines and dryers) available to all flats free of charge.
In the basement there is also a space for storing ski equipment, with ski boot dryers and ski racks, and a closed, secure space for storing your bicycles, with charging sockets for e-bikes.
The building has a lift and
free Wi-Fi.
All the apartments are very beautiful and furnished with brand new, high-quality furniture. In the living room-kitchen area there is a dishwasher, ceramic glass induction hob, oven, microwave, large pillar fridge with freezer, iron and ironing board, clothes rack, electric broom and a large 40-inch Smart TV with a comfortable sofa.
In the sleeping area there is a bathroom with shower and hairdryer. In the bedrooms there is a 32-inch TV, the beds are new and have orthopaedic bed bases.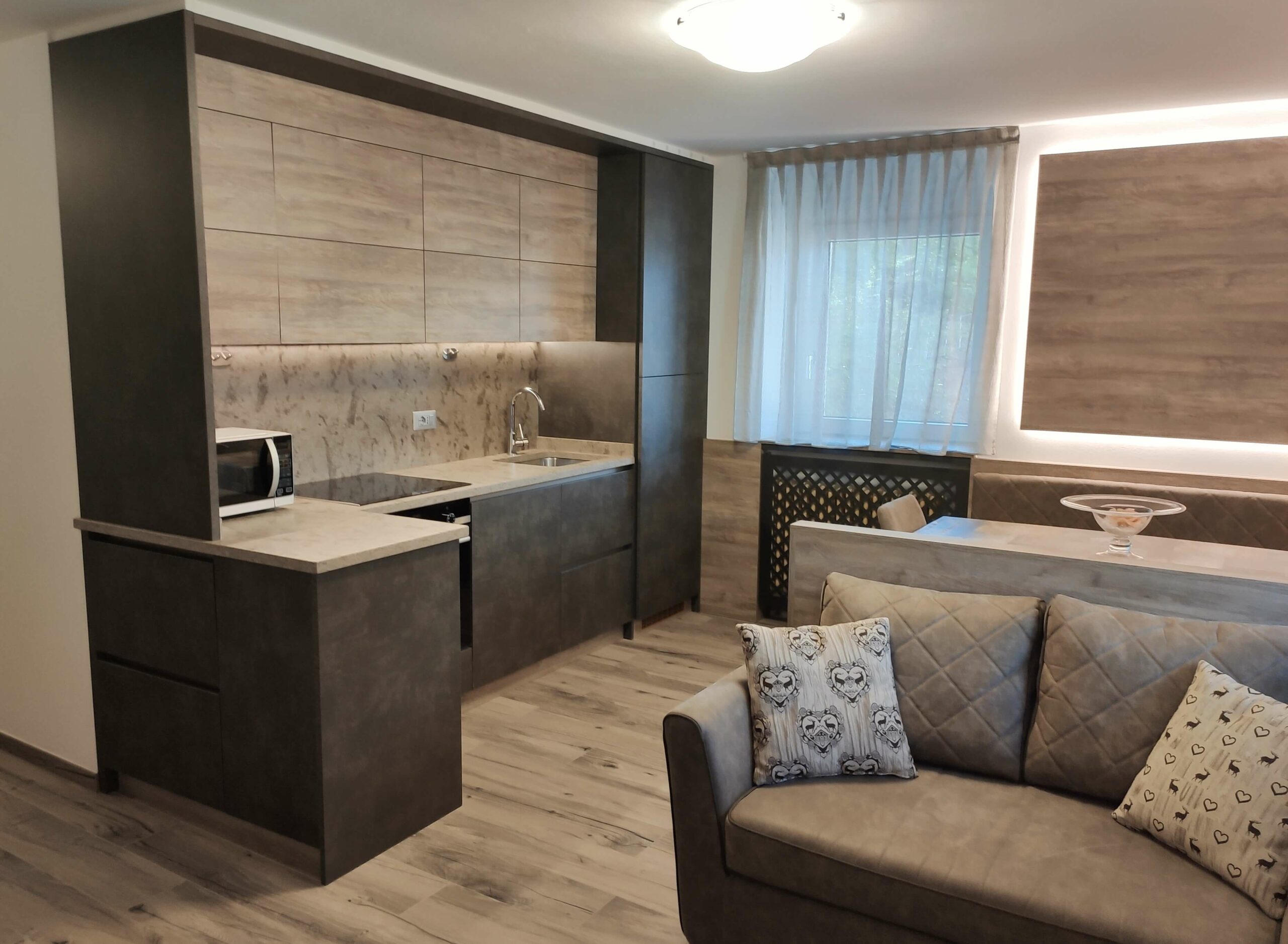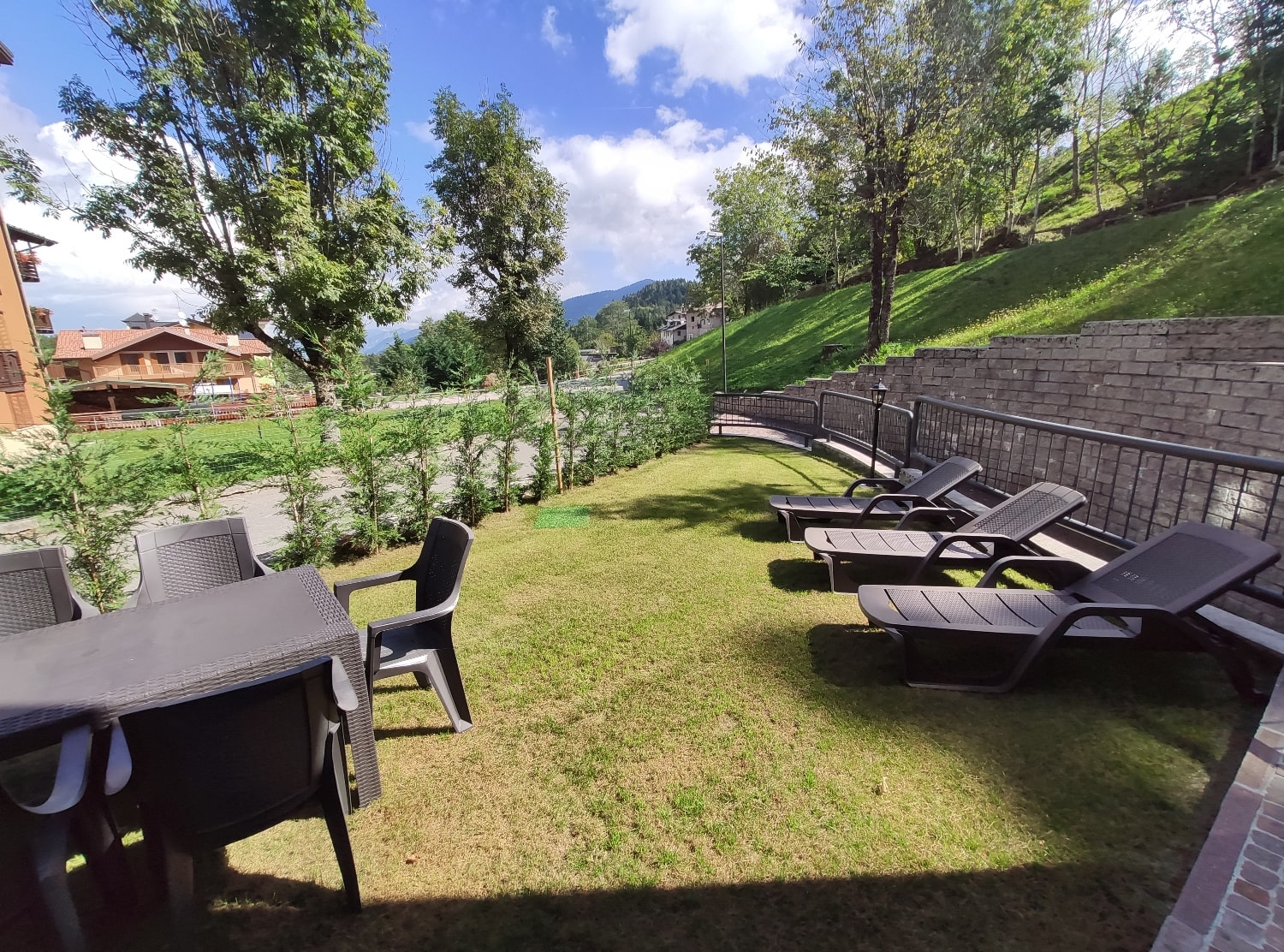 Flat A
In column A the living area has the kitchen complete with electric hob, oven and microwave; a table for six, television (32 inch LED), fridge plus freezer and a balcony exposed to the sun all afternoon. In the sleeping area there are two double bedrooms (with a 22-inch LCD TV) with detachable beds and the bathroom, in which there is a shower and a wall-mounted hairdryer.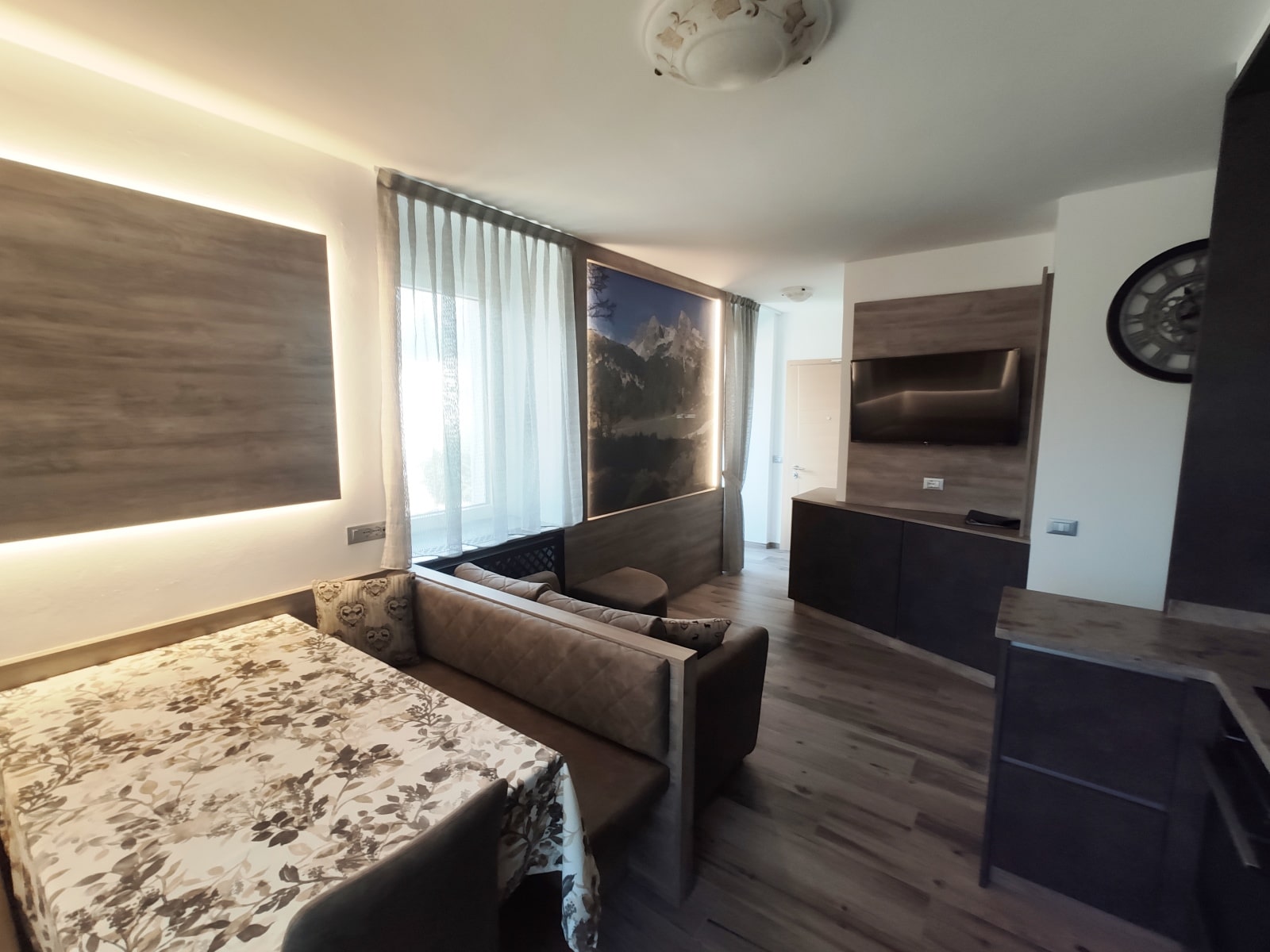 Flat B
In column B the living area has the kitchen complete with electric hob, oven and microwave; a table for six, television (32 inch LED), fridge plus freezer. In the sleeping area are two bedrooms: one double with detachable beds (plus 22-inch LCD TV), a bunk room with a balcony, exposed to the sun all morning, and a bathroom with wall-mounted hair dryer and shower.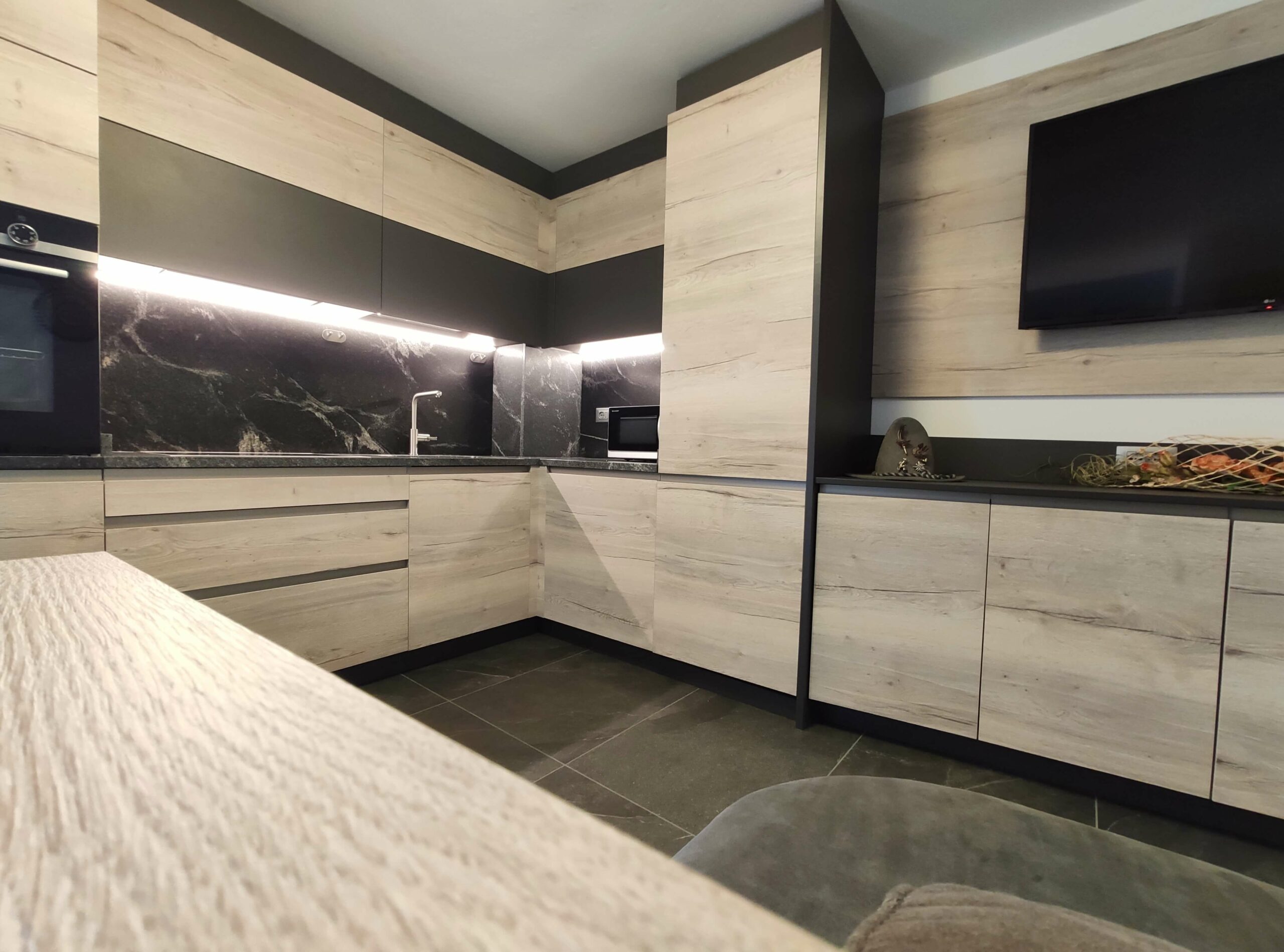 Flat Piz Galin
A superior flat compared to all our other flats. A mountain penthouse flat with a spectacular view facing the Brenta Group, where the most majestic mountain, Piz Galin, stands out, hence the name of the flat. It has an area of about 70 square metres with a living room-kitchen area, 2 bathrooms with double washbasins, two double bedrooms with a sofa bed in the living area for a maximum of 6 adults and 4 children, 3 very large balconies, which embrace 3 sides of the house. South-facing flat, enjoys the sun all day long.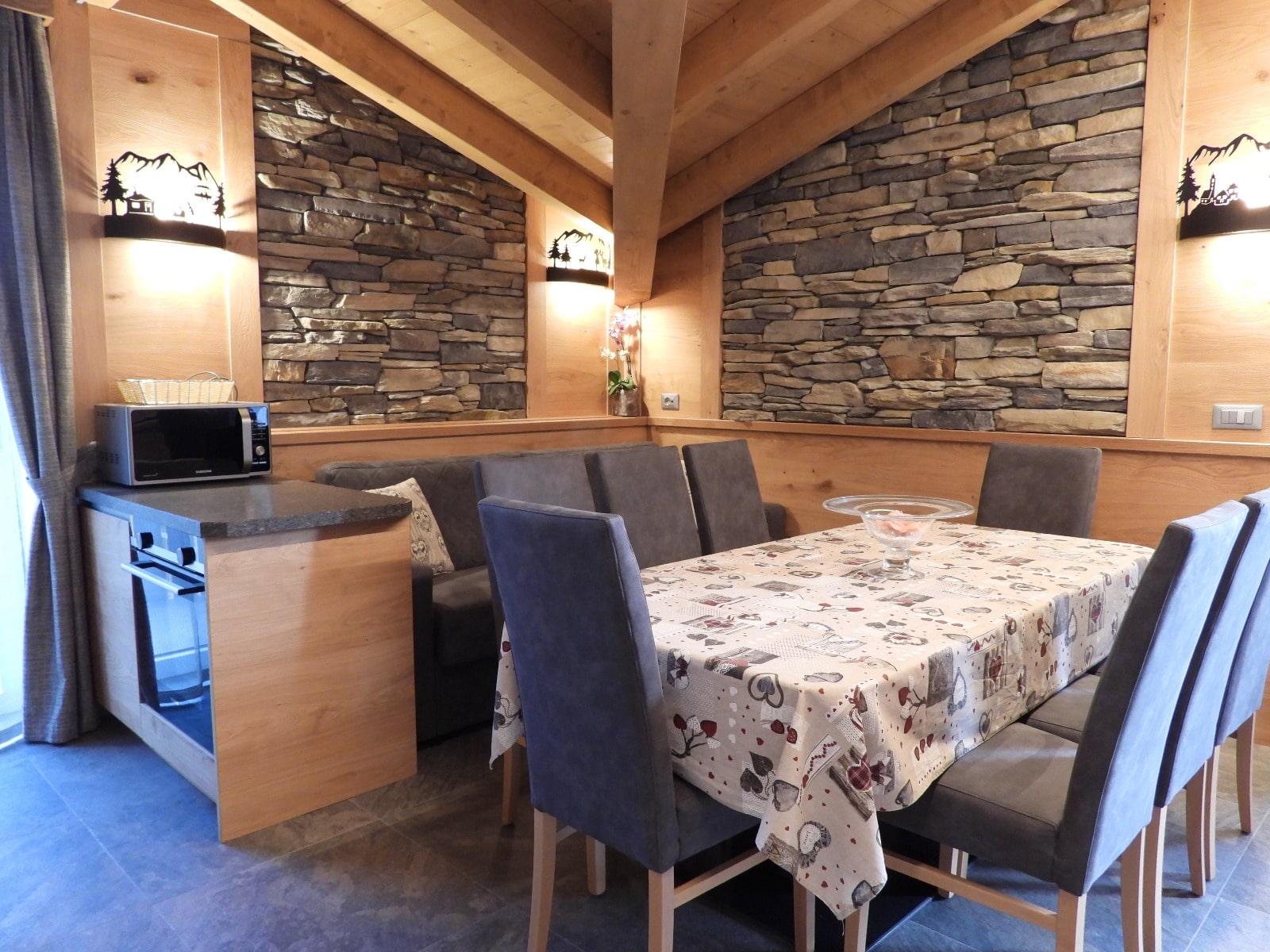 About us
Very clean, warm and cosy flat, brand new appliances (fridge+freezer, microwave, dishwasher, induction hob) in the house, with washing machine and dryer available in the basement. Kitchen and living room are new, as is the bathroom. Very comfortable beds, friendly and helpful owner. In 15 minutes walk you get to the lifts, if you want the ski bus passes 30 meters. Great experience!!!
Modern and very clean flat. The centre of Andalo can be reached on foot or by bus (bus stop a few steps from the residence). Small playground for guests, much appreciated by our little girls! Attentive and helpful owner. Definitely a place to recommend!
Very pleasant two-week stay. Recently renovated flats with all comforts and a 10-minute walk from the centre of Andalo. Also allowed our dog, maximum courtesy and organisation by the owners. We will return very happily. Alessandro and Stefania.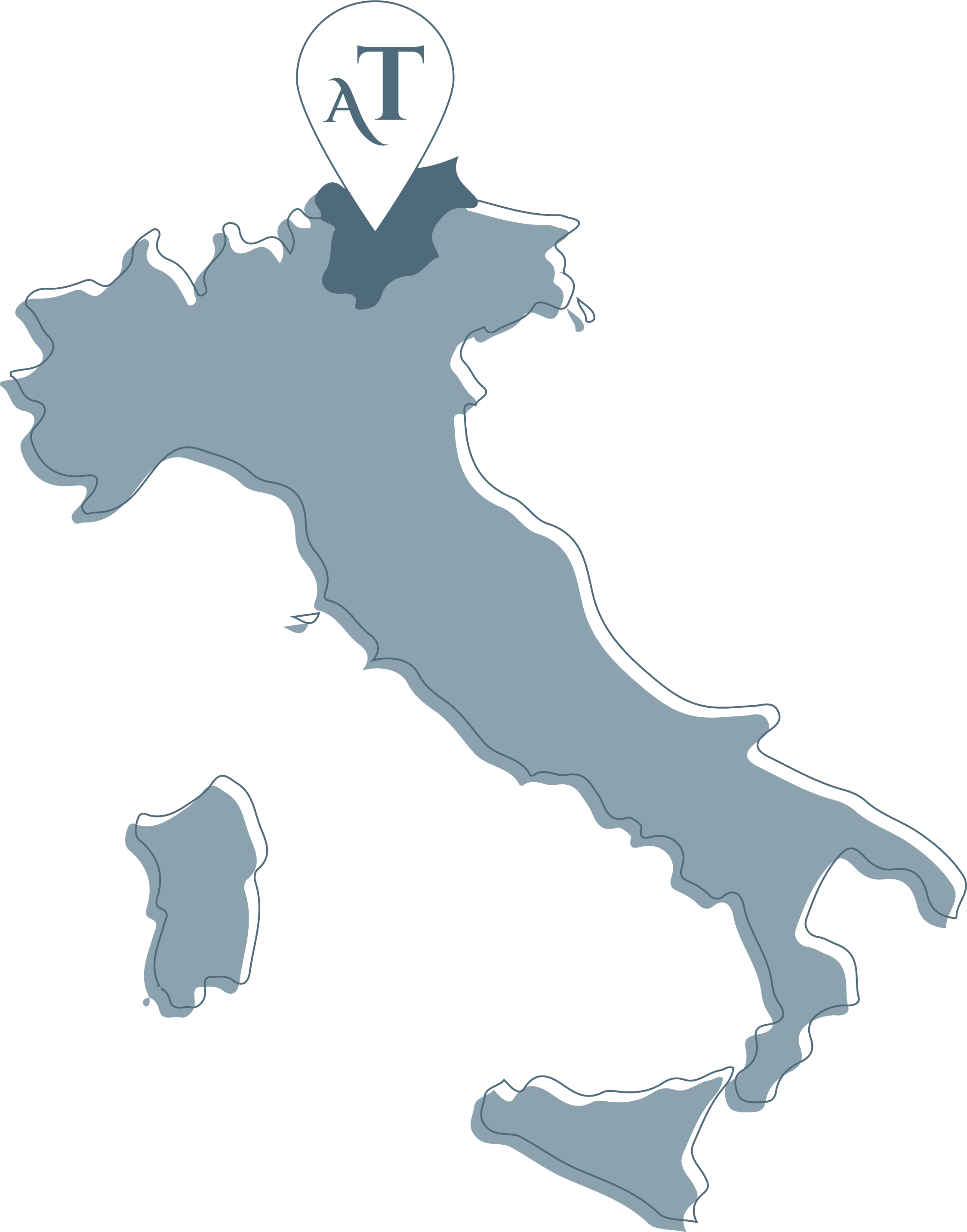 Appartamenti "Al Toscana"
Via Casanova, 4 38010 – Andalo (Trento)